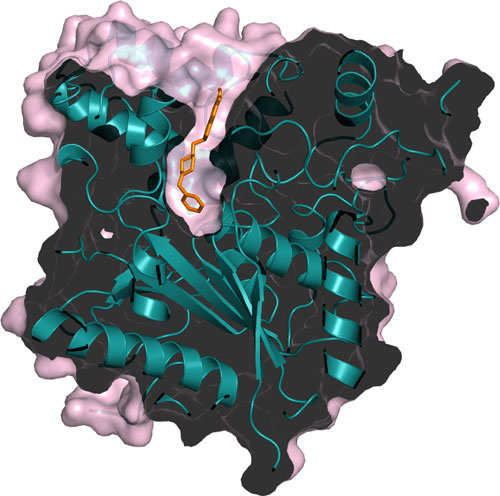 Acetylcholinesterase: an enzyme essential for the functioning of synapses in the brain and muscles.
Scientists in this group were the first to successfully determine the structure of human AChE in complex with therapeutic compounds and nerve agents. This work was conducted for the Department of Defense.
About Special Projects Group
The Special Projects Group performs structural biology projects on a fee-for-service basis for diverse laboratories from academia, government and pharmaceutical companies. Scientists in this group are experts in structure-based drug development and high-throughput methodologies. They carry out all integrated, gene-to-structure projects and take the lead on projects that require a combination of technologies, working side-by-side with all departments at NYSBC to achieve the specific goals of each project.
Services Available
High Throughput Gene-To-Structure Services

Gene construct design and cloning
Protein expression and purification
Crystallization and structure determination
Structure-Based Drug Discovery

High throughput small molecule screening
Protein-small molecule complex structure
Protein-antibody complex structure
X-Ray Crystallography

Crystallization of protein samples
Sample testing and data collection
High resolution data collection
Data analysis and structure determination
NMR Protein Characterization

Structure determination of proteins, nucleic acids and complexes
Characterization of protein dynamics
Membrane protein structure determination
In-cell NMR
Protein Production

Bacterial, insect or mammalian cell expression
Protein purification
Membrane proteins
Applications
The Special Projects Group has successfully completed numerous projects for a wide range of purposes, including:
Determining the consequences of cancer mutations
Optimizing antibodies
Designing new vaccines
Identifying new antibiotics
Producing high quality protein for experimental purposes
How SPG Works with Clients
SPG offers complete R&D services from target identification to expression, purification, and structural characterization
Work is done on NYSBC's X-ray generators, synchrotron beamline, NMR instruments, electron microscopes, and robots for protein expression and crystallization
Dedicated staff performs each project
Example:
You describe your project
We analyze feasibility and develop a project plan
We provide a tailored quotation with explicit milestones
Our team discusses progress with you at each step of the way